Glass Edging Made Easy: SZM Automatic Super Speed Double Edger Line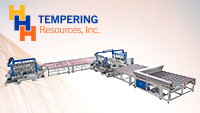 ADVERTISEMENT The Super Speed Automatic Double Edger Line offers easy operation and fast grinding speeds for optimized production. Plus, the automatic checking and transfer tables are ideal for low-E glass and IG production.
Explore HHH Tempering's complete glass edging and polishing equipment line-up and learn more about our partnership with polishing machinery leader, Hiseng, at www.hhhtempering.com/edging.
Have questions? Give the HHH Tempering Team a call at 724-230-8303.
HHH Tempering Resources
724/230-8303 |