LC Privacy Glass from Innovative Glass Corp.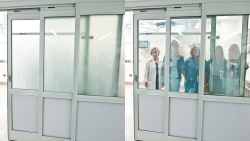 Innovative Glass developed Liquid Crystal Switchable Privacy Glass—LC Privacy Glass, or "eGlass"—a dynamic glass technology that replaces curtains, glass partitions and other alternatives in healthcare environments where privacy and sanitation is necessary. LC Privacy Glass consists of laminated glass with an electrified film interlayer, and switches from clear to frosted white at the touch of a button, the company reports. The glass is opaque and 100 percent private in the unpowered state, while still allowing light to pass through. The glass is clear when electrically powered. Customers can specify insulating privacy glass as well for increased durability. Innovative Glass will install LC Privacy Glass in fixed walls, partitions and sliding walls, as well as in swinging and sliding / breakaway doors found in ICU and emergency rooms.
Innovative Glass Corp.
516/777-1100 |