Maximize Acoustic Privacy in Office Interiors with Fallbrook XL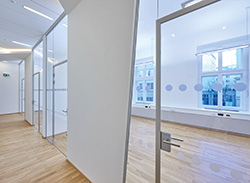 To meet the demand for greater acoustic privacy in office interiors, C.R. Laurence has introduced the Fallbrook XL Series Office Partition System. The acoustically rated Fallbrook XL incorporates 1-inch insulating glass to maximize sound mitigation.
Fallbrook XL Series features a unique, ultra-narrow aluminum doorframe that creates all-glass visuals and promotes daylight diffusion. This makes it ideal for contemporary office interiors. Low-profile u-channels on adjacent sidelites complement the minimalist aesthetic. Additional features include:
Accommodates 1-inch insulating glass
Available in satin anodized and brushed stainless steel finishes
Select from square or round profile hinge and lock hardware
The Fallbrook XL Series Office Partition System strikes a needed balance between aesthetics and acoustic performance. It's ideal for applications where sound privacy is essential such as government agencies, legal firms, executive offices, and human resource departments.
Fallbrook XL is an extension of C.R. Laurence's Fallbrook Series, which accommodates 3/8" or 1/2" monolithic tempered glass. For more information, click here or call (800) 421-6144 ext. 17770.
C.R. Laurence
800/421-6144 ext. 17770 |