Mojave Series Advanced Thermal Storefront and Entrance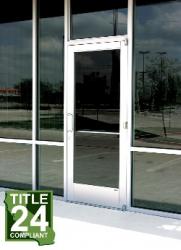 ADVERTISEMENT The Mojave Series Advanced Thermal Storefront and Entrance is engineered for optimal thermal performance and compliance with California Title 24 code requirements using both the prescriptive and performance approaches. Title 24 is difficult to navigate but Mojave Series takes the guesswork out of meeting the stringent energy codes specified in the program.
Mojave Series utilizes polyamide struts and optional advanced internal insulation that together produce a highly energy-efficient thermal system that's only 1-3/4" thick. This traditional thickness means Mojave is compatible with a wide range of standard architectural hardware, making the system ideal for upgrading existing entrances. Mojave can be upgraded with stainless steel or brass cladding, and paired with CRL-Blumcraft® Tubular Panic Devices to produce a cost-effective system with premium aesthetics.
Mojave Series is NFRC rated and features 2" x 4-1/2" glazed walls that accommodate 1" insulating glass units. Available mounting options for entrances include center hung, offset pivot, and butt hinge. You can select from narrow (3"), medium (4-1/2"), and wide (5-1/2") stile widths. Mojave Series comes in a standard thermally broken model, or thermally broken model with advanced internal insulating foam (AT Advanced Thermal).
In all, Mojave Series addresses the challenge that evolving energy codes present to glass professionals by providing exceptional thermal performance that complies with California Title 24 requirements. It's economical, easy-to-install package, and highly compatible with an array of architectural hardware.
CRL-U.S. Aluminum can provide the project-specific performance data required for Title 24 calculations. For more information, contact CRL-U.S. Aluminum Technical Sales at (800) 262-5151 and ask for extension 5305, or e-mail usalum@crlaurence.com


CRL-U.S. Aluminum
800/262-5151 |