More Glass Made Possible | Double Bay, Top Convection Glass Tempering Furnace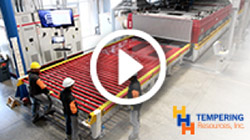 ADVERTISEMENT Increasing production capacity? The double bay North Glass Tempering Furnace from HHH Tempering Resources facilitates flawless, high-volume tempering.
Watch the video to see the 112" X 240" tempering furnace seamlessly temper up to 1.8 times the glass volume of a single chamber furnace.
With HHH Tempering Resources, the difference is clear.
HHH Tempering Resources