MVision by M3 Glass Technologies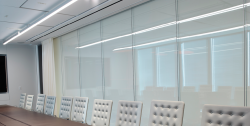 M3 Glass Technologies partnered with Gauzy, gauzy.com, to create MVision, a switchable privacy glass that uses Gauzy's liquid crystal film technology to allow the product to go from opaque to transparent with the flip of a switch, company officials report. MVision is manufactured with a less than 4 percent haze, which, according to the company, is the lowest haze available. Each piece is tested and documented at M3 after lamination to ensure the haze percentage for each individual piece. Gauzy uses a controller that is not only a transformer but a microprocessor, which, is said to prolong the life of the film.
"Most manufacturers of switchable films utilize a transformer to power their systems, which causes damage over time because the crystals are 'shocked' with a full 70 watts of power each time that system is energized. We overcome this issue by ramping up the power when the film is first turned on, greatly prolonging the life of the product," says Chris Mammen, CEO, M3 Glass Technologies.
Often used in spaces as partitions or walls, switchable glass panel products are designed for users to create multifunctional spaces that can transition from open to private. These products also have dimming features that allow users to choose settings between clear and opaque.
"M3 saw a demand from the design and glazing communities for a superior switchable technology ... We consistently heard of the need for products that are clearer when transparent, and that offer flexibility in the integration of smart technologies," says Mammen. "The integration of Gauzy's controller allows for more flexibility with our dimming feature, as well as smart technology interfacing."
Switchable glass also allows users to project HD images and video for projection displays like advertising or art in store windows, or even for presentations in the office to fully utilize windows and glass partitions. MVision Switchable Glass can open and close like blinds to support advanced architectural and interior designs. In larger scale applications such as offices, MVision partitions can serve to reduce heating, air conditioning and lighting costs.
"MVision blocks 99 percent of UV light, which can help protect interiors from sun damage. The ability to energize the product and go clear allows for natural lighting to flow into the space, limiting the number of light sources needed to illuminate an area," says Mammen. "In addition, natural lighting has been shown in studies to create a healthier, more productive environment for learning, working and even healing. This makes the product [applicable for] projects in the health care, corporate and education sectors."
MVision Switchable Glass can be laminated and tempered and can include colors, logos, patterns and more using M3's Mprint and ColorBak processes. When used with ethylene vinyl acetate, or EVA, or SentryGlas interlayers, it can be used in bathroom applications. To provide further customization options, M3 utilizes its in-house customizable sizing, printing and glass finish processes.
M3 Glass Technologies
833/814-4413 |