Quality Enclosures adds Diamon-Fusion®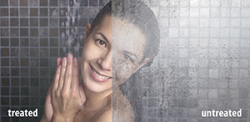 ADVERTISEMENT Quality Enclosures is pleased to offer Diamon-Fusion easy-to-clean coating to their family of dealers and retailers. Using DFI's FuseCube™, Diamon-Fusion is fused onto both sides of the shower glass transforming it into an extraordinary, high-performing surface. The ultra-thin, protective coating easily repels water, oil and other mineral contaminants for easier and less frequent cleanings, while simultaneously preventing staining and etching. Quality Enclosures customers will also enjoy long-term satisfaction as Diamon-Fusion is backed by a lifetime warranty and eliminates the need for harsh cleaners, promoting a more eco-friendly/hygienic environment.
To learn more, visit www.qualityenclosures.com.
Quality Enclosures
800/881-0051 |