SimSteel by Bacon & Van Buskirk Glass Co.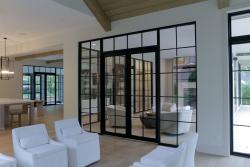 Bacon & Van Buskirk will debut its new product, SimSteel, at GlassBuild America. SimSteel's slender aluminum framing and doors simulate the look of slim steel doors for luxury residential applications and for commercial office-fronts and interior partitions, company officials say. Custom factory fabricated framing and entrances can incorporate Bacon's Architectural Muntins and Bacon's Architectural SunShades for design flexibility, historical facades and energy efficiency. Bacon's Architectural Products offers GLAZ by Renuteq, new hybrid aluminum/engineered Bamboo curtain wall. Booth #2919
Bacon & Van Buskirk Glass Co.
217/356-6471 |