Special Pricing Extended: HHH Tempering Resources Glass Lifters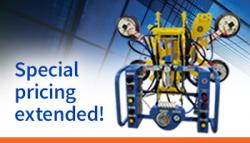 ADVERTISEMENT
Complete jobs faster using lifters that move glass quickly, safely and seamlessly. Find the right lifter for your project when you choose from 6 standard or pneumatic models. Tilt and rotation options available.
Limited-time, special pricing available now!

Call 724-212-3771 to purchase, or click to view models and pricing.
HHH Tempering Resources
724/212-3771 |