Starphire Ultra-Clear from Vitro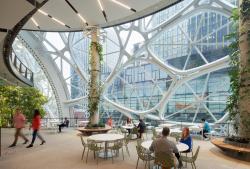 Amazon Spheres was constructed with Solarban 60 & Starphire Ultra-Clear glasses. Photo by Bruce Damonte.
Starphire Ultra-Clear low-iron glass provides options for both exterior and interior applications in commercial buildings and private homes. Starphire Ultra-Clear glass can be used by architects, building designers and engineers to deliver combinations of visual clarity, solar control and light transmittance. For interior applications such as shelves, showcases, tabletops, back splashes, doors, sidelites, decorative panels, bath enclosures, clerestories and partitions, Starphire Ultra-Clear glass provides true color fidelity while remaining crystal clear as its thickness increases. Vitro will have a 1/2-inch Starphire shower door and 1-inch Starphire glass tabletops on display. Booth #1925.
Vitro Architectural Glass