Heavy-duty shower hardware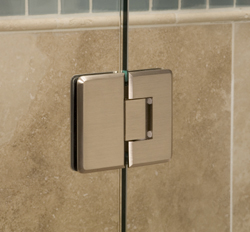 Cozza 180 degree glass-to-glass hinge
Agalite Shower & Bath Enclosures, a division of Hartung Glass Industries, announced its new line of shower enclosure hardware featuring two new heavy and standard duty hinge designs and a wide selection of glass clamps, aluminum headers, wall channels and clip systems. The Cozza Collection of hinges features a decorative bevelled edge design and the Vetta Collection has a classic squared edge. The solid brass construction in Agalite's new Cozza and Vetta heavy duty hinges offers enhanced support performance for 3/8-inch and ½-inch glass, as two hinges can support a 36-inch wide, 110-pound door.
The Cozza and Vetta hinges include an interior bonded gasket that protects glass-to-hinge contact and eases installation, according to a company release. Glass cut-outs can be the standard eared cut-out or the optional rectangular design, made possible by removing the corner posts. All Agalite hinges feature aggressive waffle grip clamping surfaces and have a 5-degree offset pin option. Cozza and Vetta hinges are available in wall mount, 180 degree glass-to-glass and 135 degree glass-to-glass configurations.
Agalite's new hardware line up also includes a wide selection tubular, mitred and ladder types of door pulls, combos, knobs and towel bars.
Agalite Shower & Bath Enclosures
800/552-2227 |